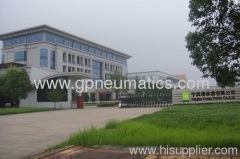 GP hope the world is much more green, less pollution. So we suggest GREEN POWER, and reduce pollution. This is our principle at the very beginning when we started.
Our goal is to preserve our customers through the complete satisfaction of their specific requirements, having in our mind only to pursue the continuous improvement in the fields of productive efficiency and cost saving. Our professional skills and abundant resources will continue to be the great source of our strength.
GP built an excellent sales team is taking advantage of a widespread net of local and foreign distributors in constant expansion in the main worldwide strategic areas. We believe the diversity of our product line, and the sincere work of our staff will make GP to be world class performance leader of pneumatic products.